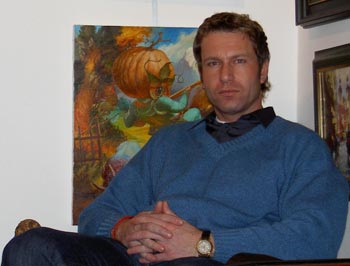 Ladies and Gentlemen

Allow me to introduce you to a virtual gallery offering a wide collection of East-European art and containing works by approximately 40 different artists from Russia, Ukraine, Belarus, Hungary, Poland and the Czech Republic. This virtual gallery exhibition is based upon a ten year old experience with visual art trading in various and highly reputed galleries in Prague, such as Gallery of European Contemporary Art, Gallery "Michalska", Gallery "Jakubska", Gallery "T-Studio", Gallery "Parnas" or Gallery "U Zlateho Kohouta". You can see many paintings displayed on these pages in stable exhibitions at these galleries.
The aim of the Gallery of East-European Contemporary Art is to:
- offer East-European and other international artists a forum, in which they can exhibit their works worldwide;
- present to visitors through our art education centre various creative techniques and offer them the opportunity to expand their knowledge of the world of art;
- link visitors through our directory to the best art resources on the world wide web;
- provide support for the development of East-European art and artists.

Our virtual gallery is made in the form of an e-shop, which gives you the opportunity to buy the paintings of your choice right away. Click at the picture you have chosen to find out how to proceed. To help you find pictures the gallery has been divided into sections so that you can find a picture of your chosen style or artist more easily. You can also survey the whole gallery regardless of the style of paintings or name of an artist; you can also search for a picture according to a particular style, size, artist or a price individually or by all of these requirements together.
The Gallery of East-European Contemporary Art is constantly growing; our aim is to offer our visitors the ultimate art experience. That is why some sections of this site are currently labeled "under construction" or "coming soon". This status is only temporary; don't forget to stop by in the near future and find out what these new sections have to offer. We'll be happy to answer all your questions and offer you more information about the piece of art that you like, as well as hear your wishes, suggestions or complaints. You will find details of how to contact us in the "contacts" section. Please, don't hesitate to get in touch with us if you have any questions.

With best regards,
Andrej Galassi
Proprietor - Gallery of East-European Contemporary Art